Cruzers for Sale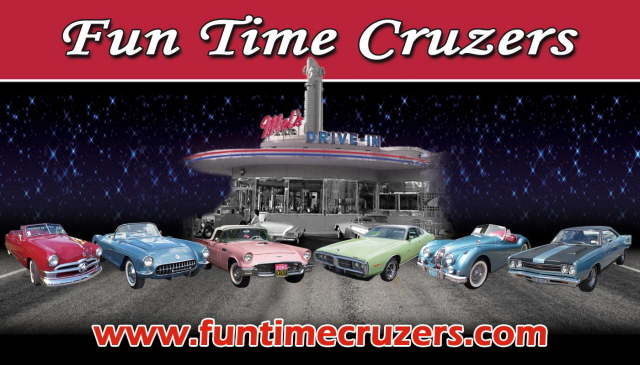 ***Updated December 19, 2015***
Attention fellow cruzers everywhere. ..Want to sell your cruzer?

Place your car ad here, ...page down to see these beauties!

We will add your cool cruzer to this page of our web site for a one time fee of just $10.00.
Keep it on our site until you sell it at no additional cost.
FTC Club Members can post ads for FREE and have their listing sent to our cruzer email database.
Also, club members can add car parts for sale to this page for FREE. Use the "Contact Us" or the "Join Us" page to send us your car information, & send your color photos or digital files (in jpg format please..640x480 size max) to ksavage57@gmail.com.
CAN'T VIEW OUR CRUZER LIST BELOW? ....when using Windows Internet Explorer some visitors to our web site cannot see our registration list. Two of our other pages may show scrambled or overlapping sentences. Please try to reload these pages again. If you still cannot see the information, try using Google or Mozilla Firefox as your internet connection (it is free). All of our web pages can be viewed correctly using this alternative web provider.
Call Ken Savage if you need to have us take your photos or have additional questions at ...586-260-3459.

Send your $10.00 payable to......Fun Time Cruzers ....48624 Lindon Court, Shelby Township, MI 48317.
PAGE DOWN FOR OUR MEMBER BULLETIN BOARD ITEMS FOR SALE

Cruisers FOR SALE:.......
============================================

1967 Ford Galaxie Convertible - Ready for Summer Cruising!

$12,000 ......reduced on 12-14-15

390 ci engine, auto tranny, power steering & brakes, newer top, custom wheels, black & white interior, rebuilt trans, power brake booster, master cylinder, brakes, battery, rechromed front bumper, ....

ASK FOR VINNIE... 586-201-9396

===============================================================================================

1977 CHEVY IMPALA 4 DOOR.....51,312 original miles

305, soft cam, 350 tranny, built by Joel's. Also have another 350, 4 bolt main engine on an engine stand.

World Product heads, roller rockers, low profile dual quad, new gas tank, new break & gas & lines.

Electric fuel pump, under side wire wheeld & painted, new duel exhaust...dumps or tail pipes need to be

attached. New tire, plus more parts for the car. EVERYTHING GOES....including the engine stand

ALL FOR ....$2,000 ..... Call Brian Ganhs, ..248-933-5412

===========================================================================
FTC Member Bulletin Board-----Car Items Needed or for Sale or Services Wanted:
If you would like to sell car parts or need items or services for your classic car, you can send your information to ksavage57@gmail.com.
THS IS A FREE SERVICE FOR FOR OUR CLUB MEMBERS....
-----------------------------------------------------------------------------------------------------------------------------------------